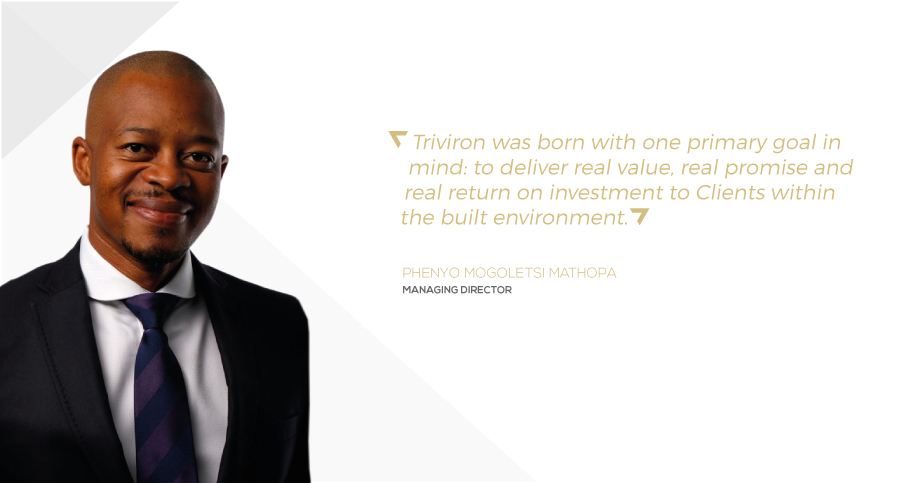 PHENYO MOGOLETSI MATHOPA
MANAGING DIRECTOR
Phenyo is not only the managing director of Triviron Project Management (Pty) Ltd, he is also a registered Professional Construction Project Manager (with the South African Council for the Project and Construction Management Professions), an accredited green building practitioner (with the Green Building Council of South Africa) and a qualified labour intensive construction methods specialist. He brings passion, foresight and innovation to the blue print table, aligning his enthusiasm for acute infrastructure delivery with the investment objectives of his clients, investors, suppliers and vendors.
From humble beginnings, as assistant to chief building inspector at the Department of Public Works in 1997, Phenyo discovered his keen eye for detail and perspective, thereby encouraging his rapid climb to hands-on project management. From 1998, he delivered 5 years of uninterrupted service as project manager to Grinaker Properties, later Grinaker-LTA Projects, controlling and managing client portfolios, project scopes and output projections, budgetary requirements and pre and post report analysis.
Phenyo's passion for built environment excellence grew with every successful development project. In 2003, he succeeded as development manager at Sun International, championing professional teams to fulfill conceptual, preconstruction and during construction development requirements on building projects, with respect to budgets, time and quality.
His dedication to strict controls and clientcentricity catapulted him to entrepreneurial heights; allowing his high standards for service excellence to flourish through his own project consultancy company.
Some of Phenyo's most iconic career highlights include successful delivery of The Steve Biko Centre World Heritage Project; Goldfields Casino and Entertainment Centre; New Telkom Mobile, Triviron was born with one primary goal in mind: to deliver real value, real promise and real return on investment to Clients within the built environment. and Corporate Offices for the Swaziland Public Services Pension Fund.
Phenyo is an honorary graduate of the University of the Witwatersrand and holds a Bachelor's Degree in Building Science (Hons) together with a Postgraduate Diploma in Property Development and Management. His qualifications further extends to Diplomacy in Labour Intensive Construction Methods. Phenyo is also an active member of SAPOA, PMSA and SAIBBP.
On the wings of Triviron, Phenyo continues to thrive in the built environment arena.